The Demand for a girls Goalie School has been tremendous for the past few years. There is so little instruction for girls lacrosse goalies that Coach Pilat must turn campers away each Summer to ensure quality instruction at his Goalie School. Coach Mary Schwartz and Coach Matt Madalon run the field component of the Girls Goalie School, using the same curriculum as the biggest boys goalie camp in the land, The Goalie School.
INDIANA – July 11-14, 2016
This camp is now OPEN.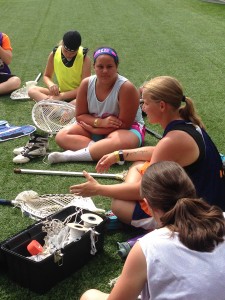 The Indiana session of THE GOALIE SCHOOL this Summer is held at beautiful DePauw University – Greencastle, IN. For Girls only, campers can expect the same outstanding instruction as the boys Goalie Schools.
The total cost for either session of Girls Goalie School is $720.00. This fee includes all instruction, meals, lodging, personal video, camp jersey, and other clothing and giveaways. The winter session in December costs $730.00.
Don't Miss Out!  Sign up NOW! 
Coach Pilat will be teaming up with 2 Excellent coaches and longtime associates at his Goalie Schools. Mary Schwartz, current head women's lacrosse coach at Roanoke College and Matt Madalon, current assistant Coach at Princeton University. Coach Schwartz is a former Division I goalkeeper at the University of Maryland who knows what it takes to be successful in the women's game. Coach Madalon was a 2 time All American goalie in college and has worked with hundreds of goalies both male and female throughout his coaching career.
Notes for Indiana Site:
Finally, Midwest goalies can travel a short distance to get the best goalie instruction in the country! Excellent facilities await all the goalies at beautiful DePauw University, where The Goalie School will take over the Midwest! Goalies from Indiana, Michigan, Ohio, Utah and all points in the middle of the country can easily attend this camp!